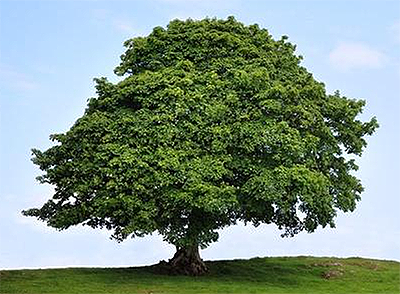 Worthing head uses 150-year-old tree to help children with 'lockdown resilience'.
The Head of Sompting Abbotts Preparatory School Stuart Douch has made a video lesson about resilience that has been widely shared by parents across social media.
'We are very mindful of the mental health stresses of confinement for children,' he said. 'The challenges of balancing home life and school work are tough for both children and their parents,'
says Mr Douch. He has created a special virtual lesson about resilience aimed at children.
It is based on the poem Tree of Strength and is set against the video backdrop of an immense sycamore tree in his school's grounds, now empty of children.
The vast tree is thought to be over 150 years old. It stands at over 80 feet high and has a trunk girth of more than four feet. It would have been planted in the 1870s when the school building was a stately home known as Sompting Manor.
The poem he reads, by child mental health expert and poet Dr Pooky Knightsmith, uses the metaphor of a tree to illustrate how to stay strong in challenging times.
Mr Douch is himself shielding and unable to be with the children at school. So he filmed some of the lesson in the churchyard of his local church, St James the Less, in Lancing. In it, he tells the children that resilience is not a
'magic super power'
. It is all about being positive right now and accepting that you can't change everything.
'I know that many of you are missing your school friends and feeling lonely at home,' he said. 'Some of you may be finding getting on with a sister or brother at home difficult.'
He urges all children to give someone in their family a hug each day and to tell them that they love them.
'That will make the difference between a day being a difficult day and a much better day,'
he says.
Sompting Abbotts Preparatory School is providing all its pupils with a full programme of online learning. This is teacher-led, using Google Classroom and live Zoom video lessons.
Staff have created a virtual timetable from 9:00 to 16.30. It replicates the children's normal school timetable and curriculum.
The children are in virtual school for registration, academic classes and sports, art and drama activities. They also enjoy lunch breaks and form time.
'It has been a learning exercise for all staff to get our online programme up and running so fast,' said Mr Douch.
'But parents and children are really engaged.'
'We're lucky that our low pupil-teacher ratio makes our remote learning provision very effective. It's allowing us to continue the one-to-one attention that our school prides itself on. Our pupils are not falling behind and losing out on their education due to the pandemic.'
Parents rated the school's online provision in a survey. On average they gave the programme 9/10. The survey resulted in comments from parents including these:
'You've all done an amazing job for our school. The work and care, together with information from you all, has been outstanding. We can't thank you enough.'
'We are grateful for how quickly you have got this up and running. We appreciate how hard it is for all teachers to learn a new way to teach.'
'The quality and level of remote learning provision has been excellent. My child has felt supported, is engaged, and loves the Zoom meetings. I've been impressed by the attention to both academic and pastoral development.'
'You've done a fantastic job! My children are enjoying the Zoom lessons. I'm so happy the provision is there for them to keep on track with their learning, thank you.'
'I'd like to say that Sompting Abbotts' staff have proved yet again how seriously they take their commitment to our children's education. They've set up distance learning so quickly and effectively.'
Sompting Abbotts has remained open to children of its key worker parents.
Staff suspended classes for one minute's silence on Tuesday April 28 at 11:00 in recognition of the critical work that NHS staff are doing.
Sompting Abbotts Preparatory School is a historic school in West Sussex for children aged 2-13. It was founded in 1921 and is set amidst 30 acres of grounds in the South Downs National Park.
The main destination senior schools to which pupils have gained scholarships, exhibitions and awards since 2007 include Lancing College, Brighton College, Hurstpierpoint College, Seaford College, Sherborne, Worth, Dulwich College, Farlington, Burgess Hill Girls and Towers Convent School.
Sompting Abbotts Preparatory School, Church Lane, West Sussex, BN15 OAZ. Tel: 01903 235960.
Email: office@somptingabbotts.com