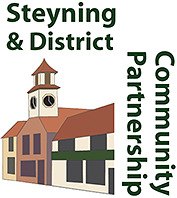 The Evergreen Subject of funding!
During the last few months the Steyning & District Community Partnership have been taking advantage of various funding pots emanating from the Government and administered by our friends at Horsham District Council.
These opportunities have enabled us to provide the Visit Steyning shopping bags, which were available from December onwards with the Late Night Shopping event - organised by the Steyning & District Business Chamber - being the first time they appeared on the scene.
In the pipeline are Arts & Crafts Workshops with venues being provided by shops and businesses in the High Street, encouraging people to visit our area- look out for confirmed dates for these special days. Both these projects have been funded by the Welcome Back to the High Streets fund.
In addition, the Re-Wilding the High Street's fund has backed the provision of 4 large corten steel planters to contain beautiful plants & shrubs which will be positioned within the High Street, together with two WIFI video swift boxes. To add to this we have obtained further funding to plant 2/3 trees to commemorate this very special Queen's Jubilee Year.
Tracking down funding for the Partnership's various events and projects is an on-going challenge. At the moment we are entering the stage of making application to two organisations to provide the monies needed to produce the superb railway boards that we have been working on for over a year, along with the wonderful and vital input from local railways enthusiasts and the Steyning Museum.
These will be positioned at two spots close to the Bramber roundabout to illustrate the history of our Lost Railways - i.e. Bramber Station and Steyning Station.
Our first Steyning Walking Festival will take place this year between 2nd - 10th July and is also looking for as much financial support as possible.
Funding too, will also be needed for our annual Food & Drink Festival which will take place from September 3rd to October 1st.
The Partnership's hard working and enthusiastic Visitor & Tourism Committee spearhead the majority of these fantastic activities.
If you feel you would enjoy being involved in these positive community plans and aspirations - set to bring happiness to our residents and encourage visitors to our town to support our local business economy - we would love to hear from you.
Please email your interest to:
steyningsouthdowns@gmail.com