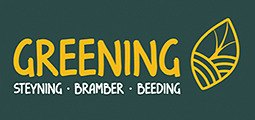 Steyning to have Community Fridge
Greening Steyning will be launching a Community Fridge at a Steyning location to be announced shortly.
The aim of the Fridge is to cut food waste from supermarkets and other retailers.
The team will collect mostly perishable food that has passed its 'best before' date but is still good to eat and give it away, completely free, to anyone who can make good use of it.
At the present time everyone is looking for ways to feed themselves and their families healthily and inexpensively – this new scheme can help.
The Fridge is available to anyone to help themselves, provided the food will be used. It will be open twice a week, for an hour, or until all food has been taken.
This new initiative from Greening Steyning adds to our other projects: The Repair Café runs every month in Beeding Village Hall, encouraging repair not replacement, with the Home Energy Helpdesk alongside; the Recycling initiative at the Farmers Market and the Life on the Verge project - creating new habitat for pollinators on the verges by allowing wild flowers to grow.
The Fridge will open in September.
If you'd like to know when it's opening, details of our new Facebook page or if you would like to volunteer please email:
communityfridge@greeningsteyning.org