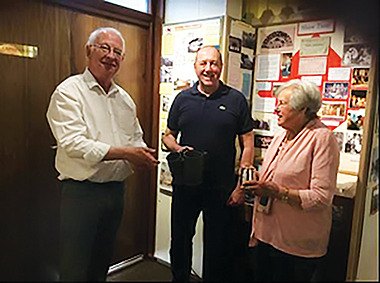 Steyning Museum Summer exhibition, "CHARLTON STREET" - Celebrating Steyning's Canadian Army connections
"Charlton Street" opens on Friday June 10th and will be on display until mid January 2023.
Steyning Museum is delighted to receive the generous donation of three pewter beer measures and a very special pint mug, bearing the inscription:
"Pop"
HAPPY DAYS
SASK L.I. (MC)
CANADIAN ARMY
1942
"Pop" was Jack Hunt, the landlord of the Solder's Return pub in Charlton Street during WW2, when the Canadian Saskatoon Light Infantry were based in Steyning to guard the South Coast.
Some of the Canadians were billeted around the town, whilst others camped on the Downs, with many of them gathering at The Soldier's Return to slake their thirst. When they learnt they would be moving on, the Canadians clubbed together and purchased the silver mug which they had specially engraved for "Pop".
A few weeks later, these young men were amongst the allied forces landing on French beaches as part of the Dieppe raid that happened in 1942.
Tragically, fewer than half returned.
Janet Sawyer and her family lived in Steyning for a while and her mother passed the landlord's mug on to her. We are very grateful that she has decided to bring these items back to Steyning as part of our history.
These newly donated items will feature in Steyning Museum's new summer exhibition, "CHARLTON STREET".
The exhibition will reflect the history of the street, selected buildings and some of the past inhabitants including Hugo, Scooby Doo.
Come and see if you recognise him!
Steyning Museum is open Wednesday to Sunday from 10:00 to 16:00.
Further details at:
www.steyningmuseum.org.uk