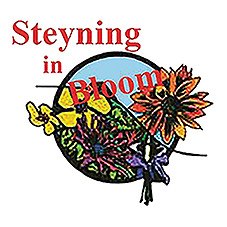 Steyning in Bloom News: March 2022
Spring is arriving, the wallflowers in the High Street tubs, planted by Steyning in Bloom in November, are blooming well and the tulips are peeping above the soil.
There are plans afoot for changes in the High Street. Four new planters will appear shortly, funded by the Steyning Community Partnership. These will eventually be placed strategically, both to help curb the traffic speed and to provide some bike racks alongside.
Our High Street, unlike other through-route towns, is a busy, attractive and sociable space and these plans will make it even more so, for both pedestrians and cyclists. This project will take some time – the planters will have a temporary home in appropriate positions in the High Street, and then moved when all the plans come to fruition.
Steyning in Bloom, in consultation with the Council, has ideas for changes in the heart of the town – for the corner bed by the car park and for two hanging planters on the bus station. Our historic High Street merits a more colourful and vibrant centre.
But the fund raising, for the bills we pay annually, has suffered due to Covid – we have had to cancel our popular Quiz and other projects for a third year. Last year we decided to cash in on an appropriate outside activity and organised an Open Garden afternoon. It was a huge success and we plan another this year.
So make a note in your diaries for Sunday 26th June. We will open many of the gardens you visited last year, and several new ones. There is still space for more so if your would like to share your garden, large or small, groomed or wild, let us know.
aeharden@btinternet.com
or
jill@burstow.org.uk
'Steyning is lucky to have so many enthusiastic gardeners. For years we have run a Best Front Garden competition, but feel it is now time to try a new tack.
So we've decided to hold a HANGING BASKET COMPETITION'
There are no rules Feel free to create something wild and wonderful, clever and subtle, traditional or up to the minute. We're really looking forward to seeing what surprises our wonderful gardeners come up with... and have a very tempting prize for the winner!
Application forms will be available in the May issue of Your Steyning or from the Steyning Bookshop.