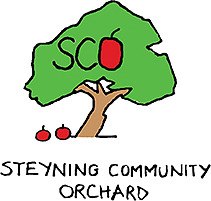 Steyning Community Orchard - Tree Planting
On a cold and blustery day in early March, we planted 4 more Sussex apple trees in the Community Orchard on the Memorial Playing Field in Steyning.
Thanks to our generous donors John, Linda, Tim and Pat, we added these Sussex apple trees to our collection of our native county's heritage apple trees.
Cockle Pippin:
This variety was first recorded in Sussex in 1800.
It was raised by a Mr Cockle and was widely grown commercially in Sussex and Surrey in the mid 1800's, but fell out of favour and is now a rarity. A medium size, yellow, sweet/sharp apple. Our tree was donated by John and Valerie Catchpole in memory of their dog 'Pippin' who loved his walks here every day.
Aldwick Beauty:
From Aldwick, near Bognor Regis. Added to the National Apple Collection in 1969. An early season attractive dessert apple. Unusually rich flavour for an early apple. Tree donated by Tim Chalcraft in loving memory of his father Brian Chalcraft.
Tinsley Quince:
Sent to the National Fruit Trials in 1942 from Tinsley Green near Crawley. A medium pale yellow dessert apple, flushed with orange/pink. Said to taste of quince when ripe. Tree donated by Linda Manning, in loving memory of her husband John Manning.
Wadhurst Pippin:
This was first recorded in the early 1800's. From Wadhurst in East Sussex. Juicy, crisp and sharp. Striped red over a yellow skin. Ripe in October and stores into January. Tree planted by Pat Marshall in memory of her husband Gordon Marshall.
We now have 22 Sussex variety apples in this Orchard, including rare varieties such as Bossom, Cappers Pearmain, First and Last, Dr Hogg and Blackjack.
Some of these are so rare that they are not in the National Fruit collection, and almost unknown outside of Sussex. The best way of preserving these old varieties is by planting them in Orchards such as ours.
We also take grafts from these old apple trees to grow new trees. This is how these varieties have survived for the past centuries, so it is only right that we do the same.
We have also registered these trees with the Queen's Green Canopy (plant a tree in the Jubilee) Search the map here to see the local additions.
https://queensgreencanopy.org/map-education-hub/qgc-map/#/
Both Steyning and Henfield have been very active planting trees and hedges.