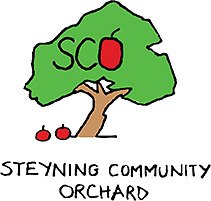 Steyning Community Orchard. News: May 2021
Since the Community Orchard was formed in 2014, we have planted 93 fruit trees in the 2 Orchards we run, and 2 other orchards that we help manage. 36 of these are heritage Sussex variety apples. We have also supplied and helped to plant 34 trees in other orchards/gardens. In addition to these we have supplied a further 52 trees to individuals to plant in their gardens. That's 189 fruit trees in total.
Many of these should now be in full blossom. So, if you are walking through the Memorial Playing Field (Cricket field), or the Downland Orchard on the Steyning Downland Scheme this month do take a look. If you are not sure where they are, the locations are on our website. steyningcommunityorchard.org
Here is a summary of the new fruit trees we've planted in our Orchards in the last few months.
Community Orchard on the Memorial Playing Field:
5 new apple trees were planted. But this year we had to do the planting ourselves, as due to Covid restrictions, we were unable to invite the tree donors to come and help plant their trees. But we are hoping to invite them to a tree dedication ceremony later in May once restrictions are lifted. Details of who donated the trees and who they are in memory of is on our website.
Blackjack:
First recorded: 1818 Sussex. Exhibited at the RHS in 1934 as a Sussex apple. Then 'lost' until a tree was found in 2010 at Dunsfold, Surrey. Dark red apples, very late to ripen. Ready in December. Also used for cider.
Nanny:
First recorded: 1842 West Sussex. Yellow flesh, soft juicy and with a rich sweet flavour. Also used for cider.
Steyning Scarlet:
This is a tree growing on the side of the Steyning A283 by pass, probably from an apple core thrown from a train window in the 1960's. Crisp and juicy. We registered this as a new cultivar in 2019, and have grafted new trees from it. This is one of those grafted trees.
John Ashdown Pippin:
First recorded: 2015. John planted a pip from an apple tree in his garden near here. It grew and grafts were taken from it. This tree is one of those grafts. Registered as a new cultivar in his memory in 2020.
Pitmaston Pineapple:
First recorded: 1785 Herefordshire. A late dessert russet apple thought to have come from a seed of Golden Pippin. Small, crisp, juicy and tasting strongly of pineapple and honey. A connoisseur's apple.
Downland Orchard on the Steyning Downland Scheme:
4 new apple trees were planted here. This completes the planting in this Orchard
Rubninola:
An excellent new apple variety. Perfectly round, red, thin skinned, juicy. Often wins best flavoured apple in trials.
Blenheim Orange:
A classic dual-purpose variety with a nutty flavour and large fruit.
Discovery:
A popular early dessert apple. Creamy white flesh-stained pink under the skin. Crisp and juicy, slightly sharp flavour
Kidd's Orange Red: Similar to Cox but redder in colour and sweeter in flavour. Late to ripen and keeps well.
Email:
steyningorchard@gmail.com
Facebook.com/steyningcommunityorchard
W :
steyningcommunityorchard.org