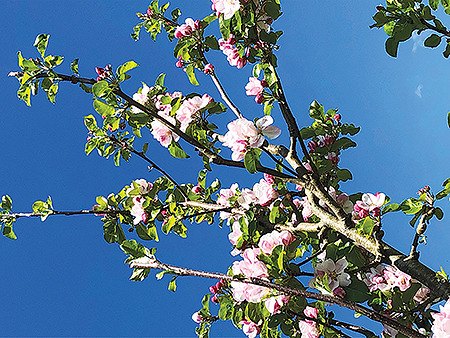 Steyning Community Orchard: June 2022
The Apple blossom will be over for another year when you read this in June
Here in Sussex it was a lovely Spring with sunshine, no wind and gales, and no late hard frosts. So the blossom held on the trees longer than usual, and with pollinating insects such as bees, bumblebees and hoverflies in sufficient numbers to effect a good set of fruit, we anticipate a good harvest later in the year.
But, our Springs seem to be set in a pattern of being dry with minimal rainfall. Older trees can cope with this as there is plenty of ground water deeper down, but is a problem for newly planted trees and shrubs, spring flowers and germinating seeds that require moisture to begin their growth.
This then becomes a problem for all the insects and other wildlife that depend on that spring growth being there when they commence their life cycles.
Spring watering of newly planted trees was always important, but has now become essential, and is one of the regular things we do in our monthly orchard working sessions.
3rd Saturday each month. 10:00. Community Orchard on the Memorial Playing Field if you would like to join us.
You may have seen that we have started planting our 3rd orchard in Steyning. This is at Abbey Road Open Space (Village Green). The first 3 trees were planted in February and we have donors for the next 3 trees due to be planted in February 2023.
We expect to plant 12 trees here by 2025, and are looking for donors for those last 6. So if you would like to have a tree here, perhaps in memory of someone, or to commemorate a special event, please email
steyningorchard@gmail.com
and we will send you full details of how you can do this.