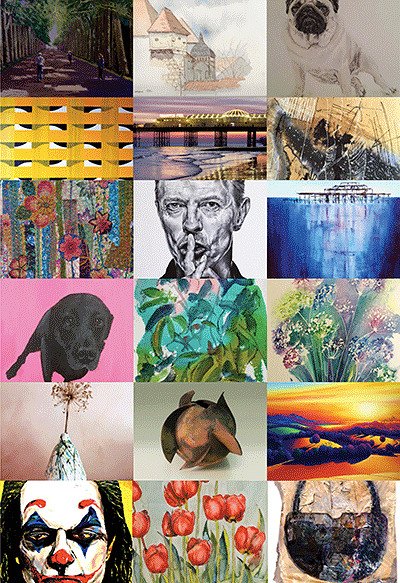 Steyning Arts: Dreaming of the Steyning Art Trail
Dreaming of the Steyning Art Trail
Under normal circumstances, you would be enjoying the delights of the 2021 Steyning Art Trail at the end of May. A time for local artists and art lovers to celebrate!

We are busy planning a trail map of venues for a later date this year August 28, 29th and 30th and the following weekend September 4th and 5th. We hope to have our usual eclectic mix of quirky houses and hidden gardens lined up for you to visit. It will all be subject to covid guidance as we approach the dates, how our artists feel about opening their houses this year and whether our communal venues can allow our bookings. We make our final decision in mid-May and will update you in August.

We invite you to close your eyes and dream of Art Trails past and Art Trails still to come. And we have some suggestions on how you can remind yourself of some of the fantastic art that is waiting for you to enjoy.
Make up your own virtual art trail
Needless to say our artists haven't been sitting on their hands during lockdown. Many have been busy in their studios, and more productive than ever. If you'd like a taster of the wonderful talent in our midst, take a peek at Artists Pages on the website, where you can go on a virtual art trail of your own making.

There are contact details listed for all the artists, so if anything catches your eye - you know what to do (hint!).
Talent spotting via social media
For those of you on Instagram and Facebook, we've been working hard to freshen up our online presence. Following @steyningarts on Instagram, and liking our Facebook page, is a good place to start. Both of these feature regular posts of new work by Steyning Arts members. And of course, you can follow your favourites direct.
Plans for the rest of the year
These are all hold, for obvious reasons, but here's what's in the calendar at the moment:
May Bank Holiday Online Art Exhibition is in the making. Watch out for our artists 29th, 30th and 31st May on your Instagram, Facebook pages and our website steyningarts.co.uk

August Bank holiday Live Art Trail(hopefully) 28th, 29th, 30th August and 4th, 5th September

Steyning Centre is booked on Saturday December 4th for our ever-popular Xmas Gift Fair and Art Exhibition, we managed to make a great success of this just before lockdown last year and we hope that circumstances are on our side again this year.
Like last year we'll be making decisions as we get closer to the times on whether we can go ahead with live events and will let you know. But why not pop the dates in your diary and join us in crossing our fingers that the health emergency will have abated enough for us to get going again with live events.