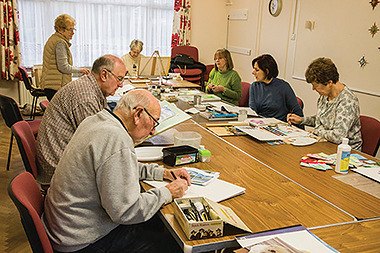 Steyning and District U3A: Enjoying life after work
Ask many people what retirement is all about and they might say – more time to travel, enjoy hobbies and spend time with family. But when it actually happens and you walk away from work for the last time, it can almost feel like a loss. Loss of identity, the company of colleagues and, perhaps most impactful of all, the loss of structure in your day to day life.
Whilst that lack of routine can be liberating, it can also be very unsettling, especially in the early days.
'I first joined a History group at Steyning and District u3a in the run-up to my retirement about 8 years ago,'
said Colin.

'I'm now in several different groups, some of which have continued online via Zoom during lockdown and it has really helped to boost morale. There's something to interest everyone.'
U3A is an international organisation where members form interest groups dedicated to continued learning on a self-help basis.
The Steyning and District U3A has over 60 groups including topics, as diverse as the members who enjoy them, from water colour painting, canasta, world affairs, mah jong, mathematics, bridge, dress making and music appreciation.
There are also some active groups such as walking, cycling and bird watching/natural history.
Whilst U3A has a very informal structure and is run by members for members, there are also opportunities to join the committee and help with membership support which fills a gap for those seeking greater involvement.
The only criterium to join this low cost organisation (£5 for 2021/22 to be involved in as many groups as you choose) is that you are no longer in full-time employment, although many members join pre-retirement to sample a few groups as part of the transition process.
To find out more visit our website
https://www.steyninganddistrictu3a.org.uk
Contact: Diann Clarke, membership secretary at 01903 893156.
memsecsteyninganddistrictu3a.org.uk