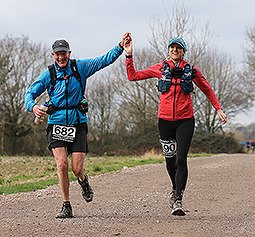 Steyning AC News
The twentieth Steyning Stinger Marathon and Half Marathon was held a few weeks ago.
The races, organised by Steyning Athletic Club, returned in all their glory this year, having been 'virtual' in 2021.
Over 500 runners completed the event, with the course covering: Steyning; Wiston House; Chantry; Chanctonbury Ring; Cissbury Ring; Steepdown; and ending back in Steyning.
This event stands apart from other trail runs, not just because of the beautiful route through the South Downs National Park, but also because of the fry-up for all competitors at the finish. We don't honestly know which is the biggest draw for our competitors (and 100+ marshals)!
2022 saw a new women's record in the marathon. Congratulations to Lindy-Lee Folscher (Tr-Anglia TC), Marathon, Female, 3 hours, 24 minutes and 19 seconds.
To get involved in running in Steyning, check out:
www.steyningac.co.uk.
Both new and experienced runners are always welcome to come along to one of the run nights (Tuesday or Thursday at 19:00) to see if they like it. There are runners of all speeds who will make you feel welcome.
Alternatively, look out for the next Steyning AC event – the 'Roundhill Romp'. This 10k trail race is part of the West Sussex Fun Run League, but is also open to non-league members. It happens in the evening of the first Wednesday in July.
Until then…
Photos courtesy of Sussex Sport Photography.