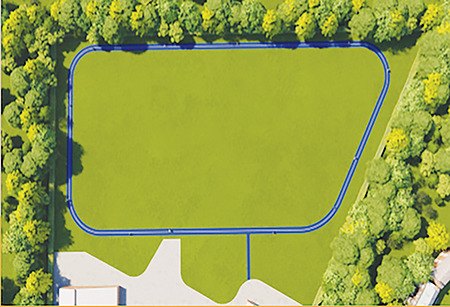 Run a Mile Project: Proposed new Running Track for Steyning C of E Primary School
We would love to provide a suitable all weather running track for our pupils and community at Steyning C of E Primary School, this would assist us in being able to facilitate the Daily Mile Challenge/Programme for our children.
We have a lovely spacious playing field that cannot be used during the winter, it would be fantastic to install an all-weather running track with a pathway leading up to the track in order to utilise the field for exercise all year round. This will really help in the Health and Wellbeing of our pupils by increasing their physical activity within a Covid secure setting. The track would also be used by our after school clubs resulting in all of the community benefitting from it, this would include both children and adults from the wider community. It would be in a completely safe environment away from cars and roads.
There are so many benefits for installing a Run A Mile track but the greatest motivation for us as a school is to help with the Health and Wellbeing of our children. The Coronavirus and Lockdown has caused so many problems for our children and one of these is the ability to get out and exercise safety. In order to make a school Covid secure we have to section of our playgrounds into individual bubbles which does not allow much room for exercise and play, by installing the Run a Mile track it means we are able to utilise our playing field all year round regardless of the weather conditions. Research shows that exercise improves our mental health and wellbeing and helps prepare the children for leaning. The Daily Mile is a popular, simple and free initiative that sees children run or jog for 15 minutes every day in school.
The idea is to install a 314m x 2m track area as shown. it will have a drain proof surface with a solid base, with a level finish then covered in multi-play artificial grass. The track comes with a 10-year manufacture warranty and a UV stability guarantee to ensure long term use for our pupils and community.
So, if you feel you are able to donate to this project, please follow the link below to make your pledge:
https://www.spacehive.com/spstrack