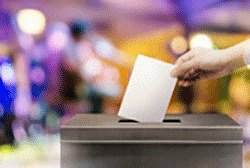 Register now to vote in May.
Local elections will take place on 6 May for West Sussex County Councillors and the next Sussex Police and Crime Commissioner. In some areas, district and borough councillors and town and parish councillors are also being elected.
Residents must be registered to vote several weeks ahead of election day on Thursday 6 May.
For anyone not already on the electoral register, the deadline to apply to register to vote is midnight on Monday 19th April.
Registering is easy and takes just five minutes online
. It is particularly important for anyone who has recently turned 18 or has moved home to act to ensure they are registered to vote.
We will make sure that polling stations are safe to use and that you can be confident in the arrangements for voting in person, but, as part of the county council's current drive to help Keep West Sussex Safe, residents are being encouraged to consider postal voting, rather than travelling to attend polling stations, to help stop the spread of coronavirus.
Residents can apply for a postal vote by visiting the
Electoral Commission website
to download, print and fill in the postal vote application form.
The deadline to apply for a postal vote is 17:00 on Tuesday 20th April.
Postal votes can be temporary for these elections only and will be sent out in the run up to election day, with clear instructions on how to return them.