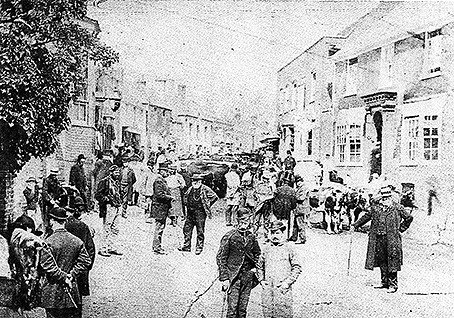 Museum Archives: Steyning's Fairs
It was Wednesday 29th September 1714: Thomas Marchant, a farmer from Hurstpierpoint, was going to Steyning's Michaelmas Fair. He had a busy day.
His diary notes
'A dry day. Went by Henfield to Steyning Fair and receiv'd 31s-6d of John Goffe, part of 3 guineas [63s] I had lent him. I bought 5 runts of Thomas Joanes at £16. I drank with Thomas Vinall of Cowfold at John Beard's. Met with John Gold of Brighthelmstone at Bramber as we were coming home and concluded that he should have a load of wheat at £7-10s delivered at Friday sennight next, but we agreed for no barley because somebody had told him that t'was mow burned.'
Then, after he got back
'Took 22 pigeons'
. He must have been in the saddle for four or five hours that day but still had the energy to go out pigeon shooting. The
'runts'
he bought at the Fair would have been steers (castrated bulls or oxen). The
'mow burnt'
barley which John Gold declined to buy had been stacked before it was fully dry and had fermented in the rick.
The Michaelmas Fair was an important date in Steyning's agricultural calendar. Every year, large numbers of
'horned cattle'
would be driven to Steyning from as far afield as Wales. There were reported to be as many as 3,000 sold during the Michaelmas Fair at one stage. And, every year Thomas Marchant was there buying runts and doing deals, along with dozens of other farmers and dealers with their own horses and carts and a throng of people scouring the booths and stalls set up along the sides of the High Street.
In 1718 Marchant confesses
'Willy and I and Jack Hazlegrove went to the fair. Bought 10 runts at £3-9s. apiece. Call'd at Thos. Waller's, of Bramber; stay'd late, and drank too much. Lost my whip in coming home.'
It was a good thing it was only his whip. In 1800
'A melancholy accident'
was reported; Charles Bridger was on his way back from Steyning Fair to Portslade when 'his horse threw him at the foot of Beeding Hill and killed him on the spot'.
The right to hold the Michaelmas Fair and another on 8th September had been granted to the Abbot of Fécamp by Edward I in 1279. With the king's grant went the right to make a charge for booths and stalls and for selling goods on a commercial basis; it was a valuable asset.
However, the 5 tuns of cider (approximately 1,200 gallons) sold to the king's agents at Steyning Fair in 1348 for shipping through Shoreham for the sustenance of the garrison at Calais, as an official purchase, attracted no toll.
Henry VI, in 1448, had inveighed against the holding of fairs on the principal saints' days. He took a dim view of the people taking part, remarking on
'the horrible defiling of their Souls in buying and selling, with many deceitful Lyes, and false Perjury, with Drunkenness and Strifes.'
Drunkenness there certainly was as we have seen, but there was also
'all the fun of the fair'
in a meadow behind the barns to the south of the High Street – now the cricket field. There were, for instance, boxing contests – though they didn't always turn out well. In 1788, for instance,
'Thomas Standen, a bricklayer's apprentice, died of the bruises he received in parting two men who had engaged in a boxing match at Steyning Fair'
.
Once the railway was built and weekly auctions had been established at the station in about 1890 there was no longer the same need for farmers to barter face to face at annual fairs, so activity dwindled.
It was moved to the west end of the town opposite the George Inn and finally came to an end in 1906 when only one local farmer, William Brown from Wickham, came to the fairground with a few runts for sale.
Image: Steyning Market c.1870