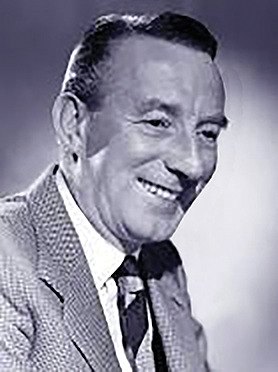 Museum Archives: Steyning on the BBC
We are told that, on 24th January in 1956, more than 20 million people tuned in to a wireless programme beamed to the nation from the Town Hall in Steyning. Following the event, the Shoreham Herald's headline read
'The People of Steyning Excel Themselves: 'Have a Go' competitor of 82 enjoys washing and ironing'!
'Have a Go' was a programme in which a Yorkshireman, Wilfred Pickles, talked to ordinary folk about their lives, with some undemanding general knowledge questions thrown in?
It struck a chord with the British people. When it was first aired in 1946 it was a rarity in that it was based on impromptu rather than scripted conversations and it was also the first show to offer cash prizes.
Wilfred Pickles engaged easily and kindly with his guests and his wife Mabel dished out the prize money – typically a modest sum of a few shillings to £2.
'Give him the money Mabel'
was one of his catch phrases – and Mabel did so – even if the questions had not been answered correctly.
When the show came to Steyning 750 people applied for tickets (which were free) and 200 were chosen by ballot to be the live audience.
There was an hour's warm-up event with singing, a comedian and an illusionist – who appeared to cut off the leg of Patsie Evans from the White Horse.
Then came the main event; amongst the half dozen people interviewed by Wilfred Pickles were Archie Hillman who came dressed in a 'round frock' – not a 'smock he insisted – and sang a Sussex dialect song called 'Sarie' '
which aroused a great deal of mirth among the audience'
, Annie Naldrett - who so much enjoyed washing and ironing - and Sydney Cassie who expressed himself strongly on the subject of the natural landscape and artificial fertilisers.
The jackpot prize, however, sounds a bit meagre – a plate of Sussex
'plum heavies'
(scones made with flour, lard, milk, water, sugar and currants or dried plums).It was all very different from another occasion, back in 1938, when Steyning people also came together to share their stories with the nation.
S.P.B.Mais, a local author and broadcaster, talked to a group of men and women in the schoolroom in Church Street, to illustrate
'A Walk down the Adur Valley'
. But, this time everything – even the audience response – was scripted; nothing was left to chance. When laughter was expected the transcript reads "Everyone [Laugh]". It must have been quite stilted but, because it was all written down, it is interesting for the local historian.
We get an insight into farming life with Mrs. Howe who describes a Sussex hard pudding made from flour, salt and water, an eel pudding using eels from the Adur, and a Sussex drip pudding put beneath the mutton to soak up the juices. She also describes how she made half pound coger cakes, using flour mixed with pork fat and water, for the carters and shepherds to take for their lunch.
Mais then introduced three men known locally as the Three Musketeers. The first, Fred Newman, explained how to build a wall with smoothly split flints:
'There's an art to cracking the flint'
he said.
'The idea is to hit it once on the top and, then to turn it over and hit it again and it should split clean in half. . . The wall can then be built using a little lime, ashes and sand but no cement.'
Sam Stringer, talked of hedging and ditching insisting that
'if the ditches are not kept clean the land gets bogged'
. Finally Reuben Smith, who possibly did a bit of poaching on the side, described catching as many as 200 rabbits in a night, though he also claimed that he had once
'caught three Alsatians and a policeman'
.
So much has changed in broadcasting and in the life we lead, since the BBC first aired its programmes one hundred years ago, but conversations with members of the public, once a bit of a novelty, are now a staple part of the output.