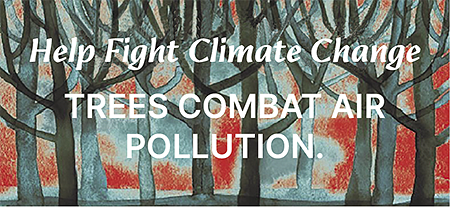 May: Steyning for Trees Newsletter
Hope you are all looking forward to the talk to be given by Charlie Burrell about the Knepp Wildlands Charity on Friday 20th May at 19:00 for 19:30 at Steyning Centre, hosted by the Steyning Society. If you are not a member you can buy tickets at the Bookshop from the end of April for £3.
In a recent article in the Observer he and his wife Isabella Tree said
'The first thing is to GO CHEMICAL FREE, CUT OUT HERBICIDES AND PESTICIDES, We need to restore our soils and wetlands, sequester carbon to prevent floods. Having rewilded areas around towns and cities can act as the lungs to filter and clean air. It will also give us a bonanza for wildlife, for insects and birds'
I know many of you in Steyning have concerns about these subjects.
News from the WOODLAND TRUST:
Darren Moorcroft their Chief Exec. says:
'Farmland covers 70% of the UK, and the Trust has ample evidence of how much trees achieve there, when cannily placed'
. They are leading a drive to plant 70 woods UK wide as part of the Queen's Green Canopy initiative.
As you know SFT has been taking part in this as well with the support of the Community Football Club, where we have planted 2 hedgerows and will be planting a 3rd later this year with the Primary School children.
The dramatic Wester Ross glen will be transformed for wildlife courtesy of £770,000 from the public appeal by the Woodland Trust -
Woodlandtrust.org.uk
'When it comes to community planting it doesn't get much bigger than a tree for every family in the country'
so says the Trusts director in Wales after the Welsh Government partnered with them to offer a free sapling to every household in Wales. The Minister says
'Trees are amazing but we haven't planted enough of them in my lifetime'
. SFT will be paying for more trees to be given out free at the market in October for your gardens.
HS2's Crewe to Manchester line is set to directly damage 18 ancient woods. see
www.Woodlandtrust.or.uk/HS2rail
BLUEBELLS:
SFT is hoping to partner Life on the Verge by helping them plant bluebells on Shooting Field Green. There is an interesting article in the Woodlands Trust Broadleaf Magazine by Elisabeth Garton
'Cockoo's boots, witches thimbles..........whatever you call them, bluebells ring loud in our history and folklore'.
Please remember to let us know if you are interested in a TREE FOR YOUR VERGE by end of May 01903 816726 or email SFT.