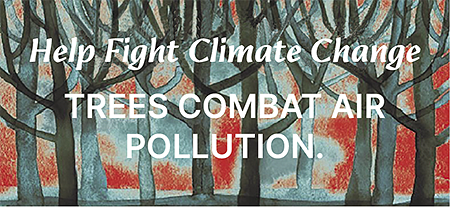 March: Steyning for Trees Newsletter
We and our great team of volunteers, good to see so many of you, had a lovely sunny afternoon planting nearly 300 native whips as hedges and a screen at Broadbourne Poultry Farm. Many thanks to Marc Steyning and to the SDNPA for providing these trees. Planting here, within the National Park, will be of great benefit to our developing wildlife corridors. Marc was also happy to take some field maples such environmentally important trees as they host many beneficial insects including pollinating moths.

Marc and his family have a long history of supporting Steyning in so many ways. I expect many go up the Horsham Road to buy the beautiful eggs. Marc looks after his hens so well with the much thicker shells and deeper coloured yolks of the. Unfortunately the chickens have to be kept indoors to prevent catching Avian Flu from wild birds. We all used a protective footbath while there. I expect you have been watching Winterwatch where Chris and Michaela have been talking about avian flu's devastating effect on so many wild birds. We also planted a screen of trees to shield the hens from being frightened by arriving customer cars.

Many thanks to Val Rush for making this contact for us and her support for SFT.

Congratulations to the SDNPA for giving out 11,200 trees to 45 recipients to plant on their land within the National Park.

We would just like to congratulate the WOODLAND TRUST on their 50th anniversary and on the amazing work they do. Despite considerable logistical problems, sending out trees this year, they managed to complete our orders including the Queen's Green Canopy scheme, which they also handle,for the Community Football Club.

They are appealing for donations to continue their work of acquiring more woodland. They have recently acquired amazing sites at Pepper Wood, Worcestershire, Kilkeel, N.Ireland and Ausewell in Devon where they are stripping out plantation conifers to revive the Atlantic Rainforest to increase biodiversity. The Trust managed to keep its woods open, to all during the pandemic, so offering a lifeline to those struggling physically and mentally at this time as do our precious open spaces.

They are also launching a £3m fund to green Britain's townscapes.

They are taking a lead in tackling the twin crises of wildlife extinction and carbon capture, very close to SFT's heart. SFT is pleased to hear they are donating over £20,000 to research to eradicate the use of single use plastic from woodland schemes U K wide. We do use the plastic guards provided by our tree suppliers and, although they are made from recycled plastic, will recycle them after use. We would be much happier to eradicate plastic entirely from our schemes.

We do hope you will all be able to come and support us and the Steyning Society when Charlie Burrell gives his talk on re-wilding the Knepp Estate, on 20th May at the Steyning Centre.

Charlie and his wife Isabella Tree have won many awards for their ground breaking book and work on changing the face of agriculture to prevent the catastrophic decline in bio-diversity, birds etc.

We have all been delighted by his work on encouraging storks back to the UK after nearly 400 years and the amazing results they achieve in saving and increasing so many endangered species.