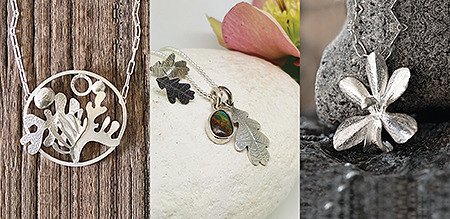 March 2022L: Front Cover
Alison Crowe: Silver Stellatus Necklace
Alison is a local precious metal jeweller working mainly with silver and gemstones. Her jewellery is designed and handmade in a contemporary style inspired by natural forms and early 20th century art. Alison uses the highest quality materials, wherever possible, from recycled metal and her work is hallmarked by the Goldsmiths Hall in London.
For information on local stockists and commission enquiries, please visit:
W:
www.alisoncrowejewellery.co.uk
E:
info@alisoncrowejewellery.co.uk
Katherine Lawrie: Oak leaf pendant & earrings
For Katherine, as a Steyning girl born and raised, it's difficult to ignore one's surroundings. Living a stone's throw away from the Sussex Coast and the South Downs means she's not short of inspiration from the natural world even on the greyest of dull winter days. After being inspired when young, by her father, a jeweller, attended art college in Worthing, Epsom, and Edinburgh before setting up business in Steyning, and now Walberton near Arundel.
Designing, making precious metal and gemstone jewellery professionally for over twenty years, also teaches jewellery design and making.
W:
http://www.klawriejewellery.co.uk/
Fb:
https://www.facebook.com/katherineLawrieJewellery
Buy:
https://folksy.com/shops/katherinelawriejewellery
Jane Pinder: Orchid Flower
Jane has been designing and making jewellery for over ten years from her home workshop in Worthing. Her work involves a synergy of creative ideas using a variety silversmithing techniques.
The collections of contemporary silver and mixed media jewellery draw influence from the varied fauna and flora, organic texture and natural landscapes of the Sussex Coast. She is currently working on some new textural silver pieces and a side project on enamelling. Jane exhibits her work at local art trails, galleries, craft fairs and artisan markets.
The orchid flower is cast from a real flower and they represent thoughtfulness, refinement, fertility, beauty, charm, and love, they are the perfect bloom to celebrate all of life's precious moments.
E:
janepinder@gmail.com