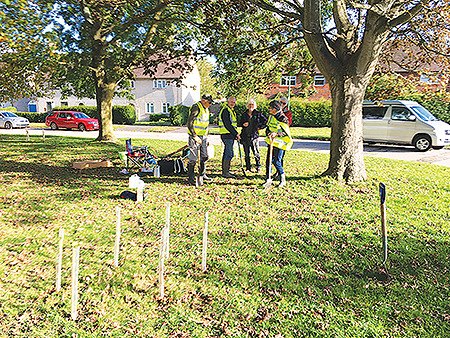 June: Steyning for Trees Newsletter
Many thanks to Charlie Burrell for giving us such a fascinating Talk about the tremendous environmental work being done by the Knepp Foundation Charity.

Thank you to the Steyning Society, to whom we are affiliated, for hosting this event. I know we will all be able to go to Knepp now with a greater understanding of everything that is happening there. Steyning For Trees were very pleased to be able to give the Foundation £300 (including a personal donation) to help them continue with this important work.

STEYNING FESTIVAL: GREENING DAY 28th May

Steyning For Trees are very happy to be supporting Greening Steyning by having a stall and giving a talk about our work. 15:00 onwards in the Big Top.

Come and enjoy our children's games, adults very welcome to play too with the chance to win a free tree for your verge or garden. Do come and see us, we are also taking orders for our TREES ON VERGES scheme. We pay the cost but welcome whatever donation you feel you can give. So many of you have told us how great you think the trees have looked this year.

STOP PRESS: STEYNING FOR TREES: COMMUNITY WOOD

We are so pleased to be able to announce we have, at last found some land to plant a WOOD. This will be done in partnership with WSCC as it is their land. Obviously this will cost quite a lot so we will have to do it over a few years.

The Current price for a tree through WSCC is now £209.80 but we do get maintenance, replacement and they supply and plant the tree so beautifully We are now having to pay a contractor to water various areas because of the drought and the wood will have to be included until the trees establish after 2-3 years.

We feel, with this contribution and our hedge planting - 10 so far 2,450 saplings, more to come next year, that we are contributing to Steyning making a considerable gain in biodiversity.

We are also helping at Saddlescombe Farm near Devil's Dyke to plant more hedges and with their wonderful environmental farming policies this is another good contribution to increasing biodiversity as well as providing carbon and pollution capture.

'SFT have been busy planting 1,000 native bluebells on Shooting Field Green paid for by us but in partnership with Greenings Life on the Verge team Many thanks to all those who have helped with this'.

Many thanks to all of you who donate to us and also help us in so many ways.