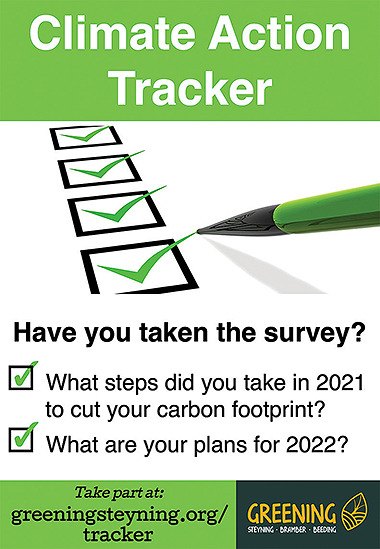 How are we doing on tackling climate change?
Introducing the Climate Action Tracker
Climate change is higher up the agenda than ever before. But how can we assess what progress we are making locally in tackling it?
The Climate Action Tracker is designed to do just that.
It's a quick online survey put together by Greening Steyning, Bramber and Beeding.
It focuses on individual actions - rather than what governments, schools, or businesses are doing. It is about us as individuals and households.
It should only take 5 minutes to fill out. The first section asks what actions you took in 2021. The second asks what plans you have for 2022. The data collected will provide a valuable insight into what the main trends are, as well as the barriers to action.
The early results are already looking interesting. Encouraging wildlife in our gardens is an early front-runner as the most popular action taken last year.
Doing more to recycle, reuse and repair is also being mentioned frequently, as is shopping locally.
We'll share the full results in a future edition of Your Steyning. The plan is to repeat the survey every year or two so we can see how local behaviour is shifting over time.
The more people who complete it the better the picture we'll have. So do take a moment to fill it in. Just go to:
www.greeningsteyning.org/tracker
The Survey closes on 28th February, and is limited to one person
per household.