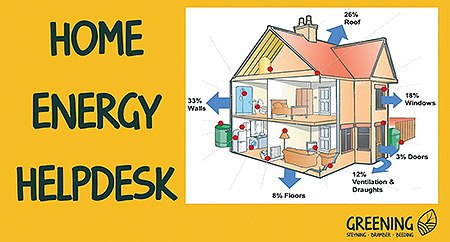 Home Energy Helpdesk Launched
With energy prices going through the roof, domestic energy bills are a real cause for concern for many. But some help is on hand. Greening Steyning's new Home Energy Helpdesk offers practical assistance on how you can save on energy costs and cut your carbon footprint at the same time
The Helpdesk will be happening once a month at the same time and place as the Repair Café. We've booked a meeting room at the back of Beeding Village Hall and we'll have a team of volunteers on hand to talk over your own situation, and what energy saving steps might be practical for you.
Perhaps you're looking for suggestions on cheap and simple measures like draught-proofing or LED lighting. Or maybe you'd like to talk through more ambitious steps like fitting solar panels or installing a heat pump. Either way, our Helpdesk team are there to talk over the options, and provide useful pointers on where to go next.
The service is entirely free, though you might like to drop a small donation in Repair Café bucket as you leave.
The next Repair Café and Helpdesk will be on Saturday 12th March from 14:00 - 6:00 at Beeding & Bramber Village Hall.
You can book a 15 minute slot in advance via the website:
www.greeningsteyning.org/helpdesk.
Or just show up on the day and ask one our volunteers if there's a free slot coming up. If we're busy, you can have a cup of tea and a cake while you wait.
Green Drinks Monday 28th March: Beating the Energy Price Crunch.
At Green Drink in March, on the eve of the latest energy price hikes, we'll be discussing how to soften the blow of rising energy prices. There will be a panel of experts from the Helpdesk there to answer your queries and pass on some of the tips they've picked up, for example on where to get grants for home energy improvements.
It's at Steyning Cricket Club, starting at 7.30pm on Monday 28 March. Tickets are free but we will be collecting donations on the door. Find out more at:
www.greeningsteyning.org/events