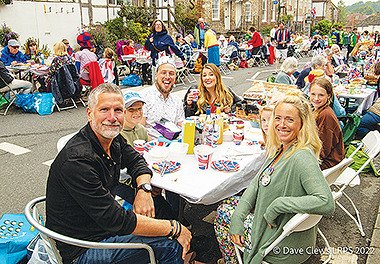 High Street Happiness!
For Jubilee Sunday, Steyning was alive with the sound of happy people – 840 people to be accurate! The High Street was closed and chairs & tables took the place of cars & shoppers.
Before the Street Party lunch began in earnest, all guests stood to sing the National Anthem led by Zoe Peate and volunteers from her various local choirs.
The atmosphere was absolutely fantastic, with people wandering from table to table meeting up with friends & family – some of whom they had not seen for a long time.
Tables were ornately decorated and the food on display was superb – banquets more than picnics ! For the kids there was face painting and a carousel; for the adults – dining out and toasting the Queen!
Over the last 18 months the whole event has been organised by a small Queen's Platinum Jubilee Street Party Committee, consisting of just 7 people.
From February this year, local volunteers have been beavering away creating the decorations for all the tables. On the day there was further input from some more wonderful volunteers who helped set up, meet the challenges that were thrown their way during early morning and clear away after all the 'Elizabethans' had gone home.
To add to this, three others who added their talents to the day: Simon Alexander and his team recorded the scene on a superb drone video – view this at:
https://youtu.be/SFByifuk5pM
.
Maggie & Dave Clews both took some great action shots of the party, some of which you will find within this article.
A wonderful community co-operation culminating in a fantastic community even!
Pictures displayed can only show a tiny representation of this right royal occasion – spot the one where the Queen has arrived!