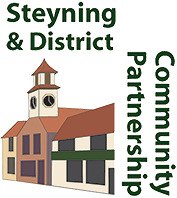 Events & Projects in the Pipeline...
The Steyning & District Community Partnership Visitor & Tourism Group are not slowing down, even in these difficult times.

They are working full steam ahead on organising a Walking Festival which will take place between June 19th and 27th this year.

There will most probably be a change of format to allow for any Government restrictions that may still be in place at that time, but at the moment over 12 walks are agreed, with more still being thought up. Watch this space !

Keeping in the walking vein, the Committee have just completed improvements to the signage from the SDNP to the South Downs Link at the Bramber Roundabout Junction.

This was much needed as people were regularly getting lost.

Leading on from this, another project setting the team alight right now is to produce 3 interpretation boards which will illustrate and trace the history of the railway lines that used to be a major part of our area. Lots of work ahead for that, both creating the boards and and getting all the information right.

All exciting stuff and set to help and encourage people to 'Keep Walking'!