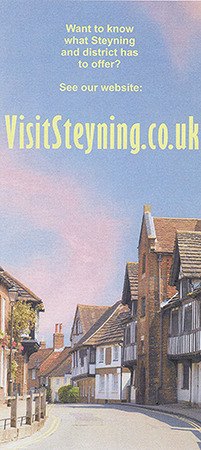 Click on to Visit Steyning!
Some residents may not be aware of the website
www.visitsteyning.co.uk
which is provided by the Steyning & District Community Partnership. It provides information not only for potential visitors or those who plan to re-locate to the area, but also useful information for those who live here.
Within the Things to Do section you can find such things as local walking routes, heritage trails and information brochures, which can all be downloaded, plus dates for forthcoming events. Also to be found is a Community Contacts page which gives details of over 100 local clubs and associations, as well as a Covid page listing support available.
Visit Steyning will always be an ongoing project - new ideas to promote our district will regularly emerge plus community information will constantly need updating. A flyer was created by the SDCP Visitor & Tourism Group a couple of months ago and has been sent out to many potentially interested parties, such as coach tour companies, directing them to the website to promote interest in Steyning as a destination.
In order to keep the site fresh and interesting SDCP are keen to welcome website savvy volunteers to help us with this work. if you are able to assist with administering our Facebook/Twitter/Instagram accounts too, that would also be good news. If this is your area of expertise, please email: info@visitsteyning.co.uk - we would be so happy to hear from you.
A few of the other SDCP V & T Group projects in the pipeline at the moment are:
The Lost Railway;
this will involve the productions of interpretation boards, sited near the Bramber roundabout, giving insight into the history of Steyning & Bramber railway stations.
The Steyning & District Food and Drink Festival;
the annual extravaganza held during the month of September, celebrating all things foodie;
and, on 25th July, a
Summer BBQ at the Steyning Cricket Club
- set to raise a cheer for days that allow us less directives and more fun!
As you can see the V & T Group volunteers are highly active with community events & ideas, so even if you are not website orientated, please do contact us at the email listed so we can talk through any possible involvement with each other.