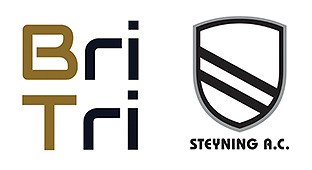 Children's Triathlon
• Start Time: Registration opens at 9:00
• Venue: Steyning Grammar School playing fields
• Swim: POOL
• Enter: Online via www.brightontri.org/ kidstri
• Entry: £20-£25 (10% off with Code: YOURSTEYNING22)
• E:
kidstri@brightontri.org
• W:
http://www.brightontri.org/kidstri
Dependent on the number in each category racing, we aim to finish all the races by 13:30
Now in its eighth year, the Steyning Kids Triathlon takes place on the Steyning Grammar School playing fields
Over 200 children, ranging from 8yrs to 16yrs take part across various age categories. There is also an under 7yrs 300m dash at the end of the main racing to make sure that all younger siblings can join the fun too!
A triathlon consists of a swim, a cycle and then a run.
Each activity is segued with what is known as a 'transition'. Transitions take place in the 'Transition' area where a competitor's bike is either racked on A frame racking or laid on the ground ready to be picked up and raced.
Competitors start in the pool (the Steyning Leisure Centre 25m swimming pool) and having completed the appropriate number of lengths of the pool (dependent on ability/age group category) they run to the Transition area, put on their bike helmet, change their shoes (if necessary) and then pick up their bike and run with it to the 'mount line' just outside the Transition area.
Once mounted, they complete the requisite number of bike laps (again dependent on ability/age group category) before dismounting at the dismount line and returning to the Transition area where they rack/lay down their bike, remove their helmet and change their shoes (if necessary) again so that they are ready to run.
Once ready, they head out of the Transition area for the last time, complete the requisite amount of run laps and finish with a huge smile on their face as they run through the finish arch exhausted but thrilled and fired up with the huge satisfaction that they have just completed an amazing feat!
All competitors receive a medal and the top three male and female athletes in each of the competitive categories receive a trophy.
The event is organised by volunteers from Brighton Tri Club and Steyning Athletic Club in association with kidstriuk with a strong aim to make it as fun and inclusive as possible.
Families are encouraged to come along and support their children and if the weather is good, to bring a rug and picnic too!