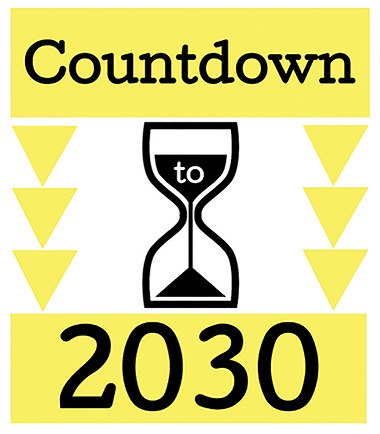 Building the community we want and our planet needs
2030 is the deadline by when we must reduce our carbon emissions, or face devastating climate breakdown with catastrophic consequences.
Hundreds of people in our community have already committed to taking action, and we invite you to join them at our Countdown to 2030 event on April 27th 2021 at 19:30.
The evening will be a positive, engaging and inspiring series of talks from a wide range of local speakers, about what we can do in our own community to get on top of the climate crisis, and how you can join in an lend your support.
Our MP, Andrew Griffith, and well-known author, Isabella Tree, from the Knepp Estate will be speaking.
During the event, you will hear from Greening Steyning's four new Climate Action Groups. They have been beavering away, despite lockdown, and are ready to share their latest ideas on how we can get started locally in tackling the climate challenge. We're thinking big.
By 2030, our ambition to join forces with local businesses, churches, school and voluntary groups, local councils, and others to make Steyning, Bramber and Upper Beeding one of the greenest, healthiest and happiest communities in the UK.
We are also hoping to include brief presentations from each of the local candidates in the May 6th County Council election.
We'll be asking them what they'll do, if elected, to support climate action at the county level.
2021 is a critical year as we countdown to 2030. As Sir David Attenborough and others have made all too clear, we have to make 2021 a turning point if we are to get on top of the looming climate and ecological crisis.
In November, Glasgow is hosting the crucial COP 26 conference, the biggest summit ever held in the UK, where the world leaders are expected to strengthen their commitments to reducing carbon emissions.
Discover how you can play your part in protecting our precious local environment, and making our community a testament to what we can achieve when we come together in support of a shared vision.
Find out more and register for the event at:
https://greeningsteyning.org/2030countdown/