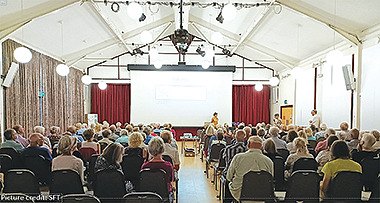 August: Steyning for Trees Newsletter
Thanks to so many of you for coming to this inspirational Talk given by Isabella Tree on Friday 15th July - Quite a crowd.! We were fascinated to hear of the part Knepp Wildland Project are playing in the planned Wildlife Corridor that will be created by the rewilding of the Adur River. This will be of great benefit to us in Steyning, Bramber and Beeding considerably reducing the risk of flooding here as flood plains would be incorporated. KNEPP'S BEAVERS are already at work on their stretch! It will mean that Steyning will be connected to Knepp by this wildlife corridor making sense of all the environmental work done here in Steyning and considerably boosting its effectiveness.
Isabella was pleased to hear SFT are going to plant a hedge at St Mary's House, Bramber with the kind permission of Peter and Roger, this Autumn. This will connect our Steyning Wildlife Corridors to the Adur. A tributary of the river runs through the grounds. We were there on Saturday admiring the wonderful number of butterflies encouraged by the owners and their beautiful mature native trees. It reminded us of the discovery by our friend Neil Hulme of the Large Tortoiseshell Butterfly breeding in this country for the first time in 70 years at Knepp.
Neil encourages SFT to plant Buckthorn, a host plant for the Brimstone Butterfly. SFT will also be planting another link hedge in Bramber at Toni and Kevin Bovis', enabled by Nick Mills - many thanks to all. We already have another corridor hedge network close to the Adur at Shona and Richard Halsall's, coming from the hedge SFT planted and are looking after at Abbey Road; thanks to the Parish Council as it is their land.
Another wildlife corridor Isabella spoke about was the 'Weald to Waves' (planning quite far advanced) linking Ashdown Forest and Knepp to the sea at Climping. There is an article in THE DOWNSMAN, newsletter of the Friends of the South Downs, with an excellent description of this scheme and Wildlife Corridors, as well as this article in The Guardian. Also talk of rewilding the Arun.
Obviously all these schemes need an enormous amount of co-operation with a lot of people and landowners working together. If all this visionary work comes to fruition and including the Sussex Wildlife Trust's wonderful work on restoring the kelp beds for carbon capture that Isabella mentioned, hopefully this would mean that Sussex would become a beacon of hope for biodiversity in this country.
Jo mentioned, in her thanks to Isabella, the warning in the Environment Agency's report Working with Nature unveiled at an event hosted by Green Alliance on 12th July when Sir James Bevan, their Chief Executive, spoke about the shocking loss of biodiversity which could pose a risk to human survival if it continues. 61% loss since 1970. He said we must all work together to turn this around.
Because of our hard-working committee, all working together, we raised £409. Many thanks to all for supporting this event. Also to the Steyning Society for giving us the ticket money from the postponed event we were very happy to honour those tickets and the free tickets for their members. We are able to give £550, including a private donation, to the Knepp Wildland Foundation to help them continue their valuable work.
Many thanks to our lovely Steyning Bookshop for their support of this event, selling books and tickets etc. Do call there for Vol 2 of Isabella's children's picture book in September (When the Storks Came Home), and the big Wilding Handbook in Spring 2023. Do order your books through them so much better than Amazon.
There was also a very good discussion, at question time, about food production and waste in this country. There was a wonderful picture of cattle grazing happily in their wooded pasture, so much more natural environment for them. SFT is getting involved in supporting regenerative farming by planting hedgerows and hopefully trees on local farmland.
SFT are sorry our website is down. It's no longer hosted by the Steyning Society. We are in the process of creating a new one.
25 TREES ON VERGES have been ordered from WSCC to be planted in Steyning this year. An enormous thank you to all of you taking a tree on your verge and your very generous donations by residents for these. These include 10 trees on our area near the by-pass which will gradually be planted over the next few years, nr Canons Way. Consultation has been completed, everyone seems very happy with this. These trees will, hopefully, help us to cope better with the extreme heat we have been experiencing both by shading our streets and by their expiration, creating a cooling effect.
And a date for your diary.
Please do come and see us on Saturday 1st October at the Steyning Farmers Market where we will again be giving away free 60cm whips of different native trees for your gardens - such a wonderful resource for wildlife.
Remember: Trees are front-line warriors in the fight against climate change.
If you have any enquiries or suggestions please email us at:
SteyningForTrees@gmail.com
or call us on 01903 816726 Any donations, large or small, will be greatly appreciated and will assist in enabling us to continue our important work. Please make any contributions to the bank account below.
Steyning For Trees, Sort code: 53 61 43;
Account no: 68132085;
Reference: 'Your Surname'
And finally, if you want to unsubscribe from these Newsletters, then please get in touch via our email address:
SteyningForTrees@gmail.com