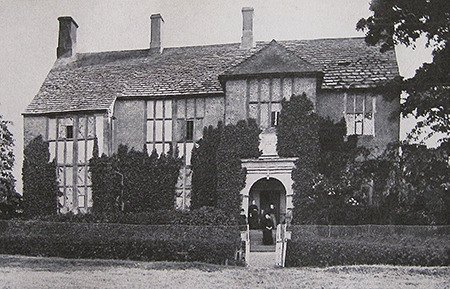 A Tudor Fugitive
In the 1570's one of Steyning's leading men was on the run. John Leedes was a wealthy gentleman, the owner of the manor of Wappingthorn – but he had a problem. He was a firm believer in Roman Catholicism at a time when Roman Catholics were not only distrusted but seen as a threat to the monarch – Queen Elizabeth.
What led to John Leedes' flight was that the Sheriff and
'two of the commissioners of musters'
had been sent by the Privy Council to enquire into those Sussex gentlemen who still held to the Roman Catholic faith and they were ordered to do a certain amount of arm twisting.
The letter which these men had in their pockets said that it was understood
'that there be in the county certain gentlemen and others that are recusants
[people who remained loyal to the papacy and refused to attend reformed services in the parish church]
who, notwithstanding that, in point of religion, they do not shew themselves so conformable as her Majestie most earnestly desireth, in all other matters, when they are charged with undutifulness, they do profess all dutiful affection unto her highness and promise to adventure both their lives and goods in her Majestie's service.'
The sheriff was instructed to
'repair to the places where the said Recusants do reside'
and, in December 1569, he and his colleagues assembled at Steyning – where they demanded proof of the loyalty of these catholic gentlemen.
The Queen, they said, had the need to send
'certain horsemen'
for service in
'the Realm of Ireland'.
All you have to do, they said, was to '
give order for preparing, within the next month, of so many horses
(with horsemen)
as are taxed upon oath of their names, letting them understand that in case her Majesty shall find them conformable in that behalf, it shall give her cause to use them with the more favour, and to qualify some part of the extremity of the punishment that otherwise the law doth lay upon them.'
As an added pressure they were told that they would be completely exonerated if they provided
'the sum of twenty and four pounds - to be paid within two days after knowledge given to them by you.'
As ever the devil was in the detail.
In a schedule accompanying the letter John Leedes and his fellow Catholics were left in no doubt as to what they were required to provide:
'The names of such persons as are appointed to find light-horsemen within the County of Sussex,
(shall ensure)
that each one will be furnished with a good large serviceable horse or gelding, a light-horseman's staff
[this was a lance],
a jack
[flexible armour for the body made from padded fabric, sometimes with metal plates sewn onto it],
a burgonet
[a kind of visored helmet],
sleeves of mail, a case of pistoletts, and a cassock
[a buttoned jerkin]
of such colour as shall be hereafter signified from the lords of her Majesty's Privy Council, or else pay so much money as shall be sufficient for the thorough furnishing of the same.'
And that was not all he had to bear. Steyning's churchwardens reported to the Bishop of Chichester that John Leedes and his servants
'cometh not to church at all'
. For that he was excommunicated.
So, the next we hear of him is that he had fled from England and that his lands had been confiscated.
A
'Grant in fee simple'
was made to
'Thomas West of all lands in Wappimgthorne...or elsewhere in England late of John Leedes late of Wappingthorne and in the queen's hands, by statute 13 Eliz against fugitives beyond the seas, with all his goods forfeited to the Queen by any other statute against persons leaving the realm.'
The irony of this is that, in order to reclaim his lands, his son chose to conform to the established faith and his grandson, by then Sir John Leedes, became a member of parliament for first Bramber and then Steyning.