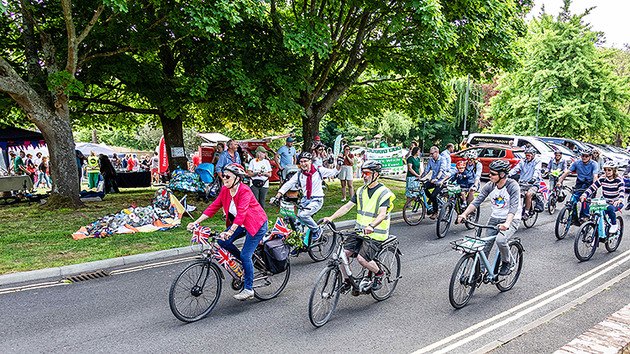 A Green Day to Remember!
The first weekend of the Steyning Festival kicked off with a spectacular green bang! Green Day on Saturday 28th was a huge success.
Fletchers Croft field was packed. The electric vehicle and e-Bike parade got the show on the road, when a wide selection of cars and bikes set off for a tour of the High Street, honking horns, waving flags and showing how the 'Go Electric' revolution has arrived.
Excitement and noise levels grew when over 150 children and family followers then took part in the children's parade, dancing along to a samba beat and following Goran the recycled sea dragon.
It's not often you come across a full-sized sperm whale in Steyning! So, as predicted, the whale proved the star of the show. The talented team of actors from Circo Rum Ba Ba led groups of intrepid youngsters, and some somewhat less flexible adults, inside the giant beast. They left wide-eyed, with some unforgettable deep-sea memories of turtles and jellyfish, and a powerful message about the dangers of plastic pollution in the ocean.
Dotted all around the field were stalls and demos covering all kinds of environment-related and healthy living topics, from the Tottington Woodlanders to the 'Inspiration Eco Station' milk float, and the sprightly 'Parcour for Seniors' demo on the outdoor exercise kit. You could sign up for some advice at the next Home Energy Helpdesk. Or learn all about willow weaving, recycling tips, or how you can get stuff fixed at the monthly Repair Café.
The final session in the Big Top tent was called 'We're all in it for nature'. It brought together no less than seven different local organisations and projects all working to protect our local environment and fight climate change. Three beautifully put together films were shown, all of them celebrating local biodiversity and showing how by working together we can help preserve and enhance it.
It was a truly joyful and memorable day. The take home message was one of hope, and how we can make a difference in protecting the planet, and our piece of it in particular.
There are volunteering opportunities aplenty with all the various local wildlife and green groups, not to mention a lot fun and friendship to be had in the process. So if you're not already a volunteer or supporter of these groups, do get involved, and be part of the solution!
You can see more photos if Green Day, plus links to the films that were shown, and details all the organisations involved and volunteering opportunities available, at:
https://greeningsteyning.org/greenday