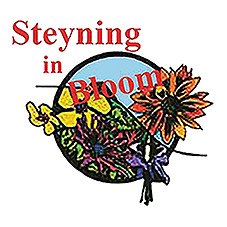 Steyning in Bloom: Update and diary dates for 2022
Happy New Year from the Steyning Bloom team. We had many compliments on last year's summer planting in the High Street – you may have seen us, in late October, digging out those huge cannas lilies and overflowing begonias and planting the yellow wallflowers that have now started to bloom.
Shortly you will see the tulips appearing and providing the bursts of colour so essential in lifting the spirits at this difficult time.
We are lucky in Steyning to have plenty of enthusiastic residents and businesses who contribute much to the floral decoration of our town. There were some beautiful planted pots and hanging baskets – and a spectacular canopy of flowers over the door and windows of the Chequer Inn. Congratulations to all and to the Business Chamber whose sparkly Christmas trees gave us such joy in dark December. Thanks to them and to the Parish Council for helping to fund Steyning in Bloom.
The Chequer Inn.
Funding is always a problem but the last two years have been particularly tricky. We had to cancel the very popular quiz – more of that later – so we needed to rethink and decided to channel our efforts into a new venture – 'Open Gardens'. This was a great success and sixteen gardens hosted nearly four hundred visitors. We've been encouraged to make this an annual event, so put Sunday 26th June 2022 in your diaries. We have had several offers of gardens already but would like more, so if you feel that you can offer your garden for others to admire, whether it's large, small, well tended or fashionably wild, please contact us:
Jill Burstow 01903 879750
Elisabeth Harden 01903 812317
5 Church Street.
The Steyning in Bloom Quiz: Quiz on the Box postponed twice due to the virus, will now be held on Wednesday 16th February, Covid permitting. Many people very kindly held over their tickets for this, and it would help our planning if they contacted the numbers above to reconfirm their booking.
Thanks to all for help and support – so important to Steyning in Bloom in their efforts to create flowering displays in our High Street.
We hope that we will see many of you at our events and wish you a happy 2022.