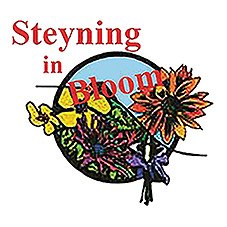 Steyning in Bloom - Hanging Basket Competition
Spring is here – it's planting time.
How about planning a special hanging basket for the Steyning in Bloom Hanging Basket Competition?
There are no rules – feel free to create something wild and wonderful, clever and subtle, traditional or up to the minute! We really look forward to whatever surprises our wonderful gardeners come up with.
But there is one condition – we must be able to see your basket from the road. The team of judges will then pare down the entrants to a short list of the ones they consider the stars of the show....
AND THE WINNER will be presented with the the South Downs equivalent of the best champagne – A bottle of Wiston Sparkling wine!
Below is an application form so we know which gardens to visit and judge. There is no entrance fee, though of course you can always make a contribution to our funds – we need to raise £4,000 each year in order to create the Spring and Summer displays in the High Street.
As you may not want to cut out the application form from this magazine, they will also be available from The Steyning Bookshop.
We hope that the Steyning in Bloom judges, and the residents of Steyning will enjoy wonderful hanging basket surprises throughout the town. Good luck!
And don't forget:
Steyning Open Garden Day, Sunday June 26th.