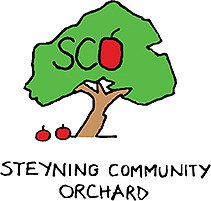 Steyning Community Orchard: The Queen's Green Canopy
Steyning Community Orchard has been delighted to participate in the nationwide tree planting to commemorate Her Majesty's Platinum Jubilee.
The Queen and Prince Charles invited people from across the United Kingdom to 'Plant a Tree for the Jubilee'. Everyone from individuals to Scout and Girl guiding groups, villages, cities, counties, schools and corporates were encouraged to play their part to enhance our environment by planting trees during the official planting season between October to March.
With a focus on planting sustainably, the QGC encourages planting of trees to create a legacy in honour of The Queen's leadership of the Nation, which will benefit future generations.
Over 1million trees have been planted so far, including 7 from Steyning Community Orchard planted earlier in the year.
Our first Queen's Green Canopy trees were 3 apple trees planted in our new orchard at Abbey Road. This is an area of open land just north of the Church that is owned by the Parish Council and registered as a Village Green.
One part is being managed as a conservation area with a stream, winter pond, wet woodland, meadow and scrub, whilst the other part is recreational with regularly mown grass.
At the top corner of this area, the Parish Council has agreed that we can plant a small orchard over the next few years.
So, on a lovely sunny morning in February we gathered with tree donors Lindsay, Susie, Michael and Sally and planted the first 3 apple trees in this new orchard. These were Egremont Russet, Annie Elisabeth and Red Falstaff.
The following week we were back at our main orchard on the Memorial Playing Field in Steyning to plant 4 more Sussex variety apple trees. These were Cockle Pippin, Tinsley Quince, Aldwick Beauty and Wadhurst Pippin.
Our generous tree donors here were John, Tim, Linda and Pat. We then submitted our trees for registration in the Queen's Green Canopy, and were delighted that these were accepted for inclusion.These now appear on the map of tree planting (*see link below).