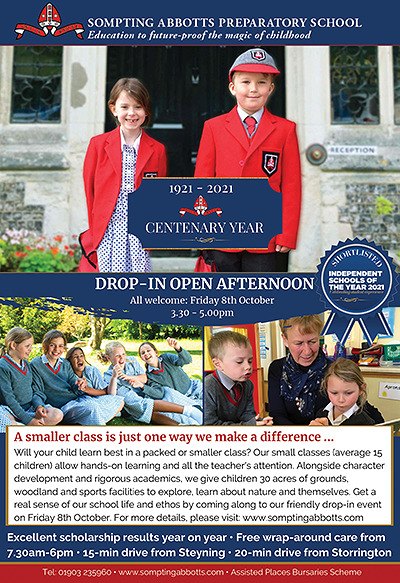 Sompting Abbotts Drop-In Open Afternoon
Friday 8th October from 15:30 – 17:00 Sompting Abbotts Preparatory School, School Lane, Sompting, West Sussex, BN15 0AZ. Tel: 01903 235960
Sompting Abbotts Preparatory School is delighted to be able to host an in-person Open Afternoon event for prospective families once again!
You're very welcome to bring your child/children with you to discover the Neo-Gothic school building and 30 acres of grounds and woodland.
A visit is an opportunity for you and your child to get a real sense of the school's life and ethos and to chat informally with the Principal, Headmaster and staff over a cup of tea.
Tours of the Main School, Pre-Prep, Early Years classrooms and Nursery will be led by the school's friendly Year 7 and Year 8 pupils.
You can also visit the woods, play areas, gardens, sports facilities and grounds; talk informally to staff and pupils; and your children can join in or watch the school's regular Friday extra-curricular activities.
There will also be musical performances by Sompting Abbotts' String Group and other musicians in the Assembly Room.
In line with the school's Forest School ethos, the school will be serving toasted marshmallows and hot dogs from a fire in the grounds for visitors and their children.
Find out more at:
www.somptingabbotts.com/school-open-day-afternoon