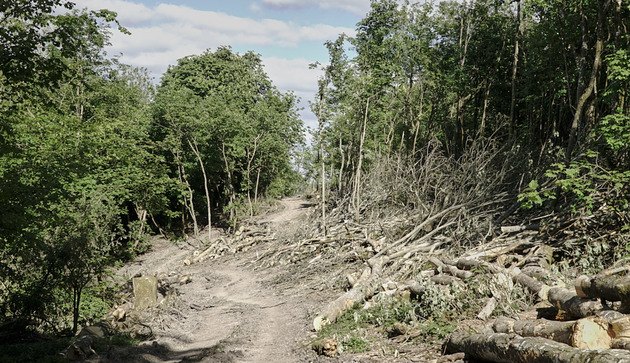 SDS to start hauling dead Ash from the Horseshoe on Monday 29th June 2020
At a time when the human world has been dealing with the effects of a global pandemic, the natural world has also been under attack. Many people use a popular area of unique downland near Steyning for solace and recreation. Now the trees which make up an iconic part of the landscape are under threat from a devastating fungus which has already
claimed large swathes of the woods walkers so much value.
Starting on Monday 29th June
, contractors working for the Steyning Downland Scheme (SDS) will begin hauling out hundreds of tonnes of dead Ash wood from the Horseshoe Woods, near Steyning. The work will take several weeks and is part of an ongoing programme to make the popular woods safe for visitors, following a severe outbreak of Ash Dieback disease.
Ash Dieback is caused by a new fungal disease, which first began to have a serious impact in the Steyning woods in 2018. By autumn 2019, around two thirds of all the trees on the Horseshoe were dead or dying.
Matthew Thomas, SDS Project Manager, explained: "Ash Dieback is a horrendous disease. It quickly kills off otherwise healthy Ash trees, and makes them prone to sudden collapse without warning. With the large numbers of local walkers who use the Horseshoe, we knew we had to act as quickly as possible." All the infected Ash trees within at least 10 meters of the paths were felled earlier this year. Although the wood has now been sold to a local woodsman, the overall cost of the work will still run into thousands of pounds. "We really just want to get on with our core job of conserving wildlife and helping local people to discover their local downland, but making the land safe for our visitors is now top priority, and it's only just begun," explained Matthew. "We still need to clear a lot more Ash trees from the northern end of the woods, and these are much more difficult to get to and fell safely."
Members of the public are advised to take extra care when walking the Lower Horseshoe footpath while the trees are being cleared, and to avoid the woods altogether in windy weather because of the danger that weakened trees may collapse without warning.
If you would like to make a donation towards the work of the Steyning Downland Scheme,
just go to the SDS homepage at
www.steyningdownland.org