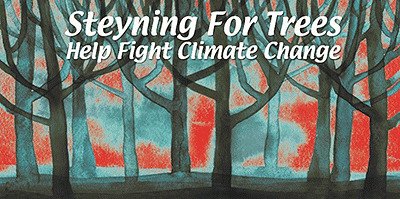 Proposed greenfield site at Buck Barn
From a major article in The Observer from Sunday 21.03.21, 'Storks, butterflies and turtle doves could all suffer at the Knepp estate in West Sussex'.
In a draft local plan Horsham DC is talking about building on a greenfield site at Buck Barn. This site is right on the border of the Knepp Estate.
Campaigners say this will block off any potential to create a vital protected wildlife corridor linking the estate with St. Leonards and Ashdown forests.
This could cause a catastrophic decline of the rare and endangered wildlife that has made Knepp its home. It will increase local air pollution, further penning in the wildlife of the estate.
Get to know the SFT Committee:
Our committee member this month is Gerard Bagley, a retired mental health professional and now avid tree-planter, who talks about mental wellbeing and trees.
Many thanks to Shona and Richard Halsall for providing the land to plant more trees, a small copse bringing our total to 1,000 TREES, and to Philip Clay for helping to provide some of these. Philip also showed us round his private Nature Reserve where he has done an amazing job over 40 years in creating such a diverse wildlife habitat. He is a licensed bird ringer.
We will be planting some buckthorn here, as requested by Neil Hulme, the Sussex butterfly expert, to help increase numbers of lovely Brimstone butterflies.
We will also be adding buckthorn to the areas already planted.
Remember: Trees are front-line warriors in the fight against climate change.
If you have any enquiries or suggestions please email us at SteyningForTrees@gmail.com or visit our website at
steyningsociety.org.uk/steyning-for-trees
or ring us on 01903 816726.
Any donations, large or small, will be greatly appreciated and will assist in enabling us to continue our important work.
Please make any contributions to the bank account below.
Steyning For Trees
Sort code: 53 61 43
Account No: 68132085
Reference: 'Your Surname'
And finally, if you want to unsubscribe to our Newsletters, please get in touch:
01903 816726
E:
SteyningForTrees@gmail.com
W:
steyningsociety.org.uk/steyning-for-trees