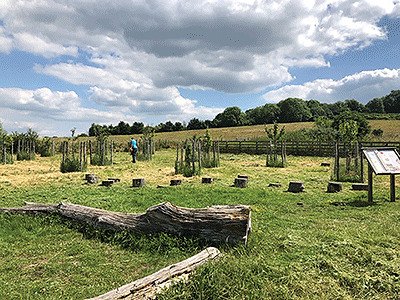 Community Orchard. News: March 2021 Memorial Playing Field
We planted a further 5 apple trees in the orchard last month. Unfortunately, we had to do this ourselves, rather than include the donors of the trees as we have done in previous years. Hopefully once the Covid restrictions are eased, we will be able to invite the donors to celebrate the planting of their trees with a tree dedication ceremony. We will look forward to that!
The 5 trees were Blackjack and Nanny, both heritage Sussex apple varieties; John Ashdown Pippin, a locally grown variety; Steyning Scarlet, our very own Steyning apple; and Pitmaston Pineapple an old apple from 1785 with a honey/pineapple flavour. We will describe these in more detail in a future Your Steyning article.
If you would like any help in choosing, ordering or planting fruit trees, we would be delighted to assist. Just contact us on steyningcommunityorchard@gmail.com
Update on our other Orchards:
Downland Orchard on the Steyning Downland Scheme.
This orchard planting was completed last month with a further 3 trees added. There are now 18 fruit trees here; 13 apples and 1 each of Pear, Plum, Gage, Damson and Medlar.
Primrose Court in Goring Rd:
No further plantings here in the last year, but all 14 recently planted apple, plum and pear trees are growing and maturing well.
We believe the orchard was originally planted in the 1940s by Dr Wheeler-Bennet who owned the house before the local well-known doctor, Dr Dingeman bought it in 1955.
Norman Dingeman (son of Dr Dingeman) has told us 'There were some 50 trees all of different varieties that ripened at different times and produced more apples than we could possibly eat, so in the autumn a wheel barrow full of apples was always left by the waiting room door for patients to help themselves.'
Primrose Court was built on the site of the original house in the late 1980's,with the large garden left mostly untouched. Unfortunately, over the last 40 years, the orchard had become overgrown and has mostly disappeared with few of the old apple trees remaining. But it still has the character of an old established orchard with long grass and scrub surrounding the orchard trees, and as such has 'Traditional Orchard' Priority Habitat status on Natural England's database
Bramber Brooks Orchard:
We help advise and plant the trees here with Nick Mills who owns Bramber Brooks.
Last month we planted the final 3 trees in this orchard. This is now an Orchard with 18 trees all growing on vigorous rootstocks. So far, the trees seem to be thriving in the damp conditions here.
As with most other organisations we face an uncertain future regarding events. It still seems a long way off when we might next be able to h old events, event outside, for the hundreds of people we normally get for our Apple Day and Wassail events.
But it is not all doom and gloom; we have more plantings planned for the Memorial Playing Field Orchard and a small orchard at the Abbey Road Open Space.
If anyone has any other ideas of where we might plant a few (or even a lot of) fruit trees, do let us know.